Posted by Jim Bugg on 15th Sep 2020
As a touring guitar player, it's a simple fact that I often need more than one guitar. No matter the size or genre of the gig, whether it's playing a full set at a rock club or just a few songs opening for a band at an amphitheater, it's always nice to have options.
Sometimes those options are only one backup guitar in case a string breaks, or multiple guitars with different features and tunings. But no matter how many guitars I justify bringing to a gig, I've only got two hands - so what am I supposed to do when I'd like to bring two, three, or more instruments along with me? More importantly, how do I make sure that each instrument stays safe during transportation?
Throw Around, In Town
In the past decade or so, I've seen the advent of the double gig bag, which many major companies are now producing. I love my dual electric gig bag, especially for van tours or gigs around town when it's the best option to throw (gently) in the car and go. But even then, it's still a "gig bag," and while I usually feel comfortable taking most of my guitars anywhere in it, there are some I wouldn't risk it with, especially those that are more likely to see a damaged or broken headstock. However, for a tour situation where my guitars are going to be riding in a trailer, or worse, transported on a flight, I would want an option that might be a little more robust - both for the sake of my guitars themselves and for my peace of mind.
One Safe You Can't Crack
While it might be every guitar player's dream to bring out a vault filled with 8-12 of their favorite guitars, that's simply not realistic for most of us. Generally, I bring 2-3 guitars with me to a show; two in standard tuning, perhaps with different features (one with a tremolo, for example) to serve as a different flavor and, ultimately, as a backup in case I break a string. Then, often a third guitar tuned ½ step down for a couple of songs. For a situation like this, there are some great options for flight cases which allow me to carry more than one guitar and, importantly, that I can handle alone, without a staff of roadies.
Road Cases offers a guitar vault case for a custom order that can fit up to three guitars depending on your needs. With convenient handles and corner casters on the bottom, they've created a rugged yet easy way to transport multiple guitars through an arena backstage or an airport terminal. This compact, portable vault uses their Signature Series construction, meaning ⅜" of industry-standard plywood exterior and a soft foam interior to keep your guitars safe in transport. You'll also find adjustable nylon straps inside the vault to secure both the body and neck of each of your instruments.
Unlike some of the other options out there for compact guitar vaults, the traditional road case construction that they use for their guitar vaults makes them incredibly durable, providing your valuable instruments the protection they need from the rigors of the road. They can even use their Heavy Duty spec ½" plywood construction to give extra security to particularly intense or rigorous travel conditions. Road Cases offers the unrivaled ability to customize your vault. They can build a case for your specific needs and they are ready to accommodate any custom options you may require, from an accessory compartment to internal lighting.
Go Big - On Tour or At Home!
If you do happen to have a staff of roadies - or maybe just an empty corner in your music room at home - Road Cases also have plenty of experience in full-size custom guitar vaults to suit whatever needs you may have. They've built vaults to fit up to 12 guitars and basses, with custom options like velvet interior, pull-out drawers for tools and pedalboards, internal power, and plenty of other customer needs. If you can dream it, they'll find a way to build it. Check out this customer guitar vault they finished recently, which includes custom LED lightning inside.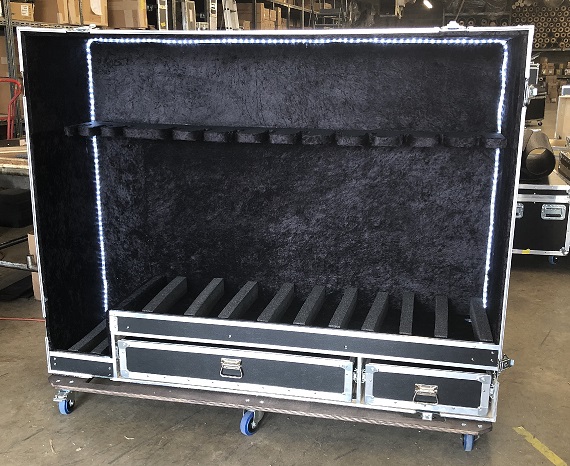 Made to Measure
Regardless of what type of guitar vault you need, the most important thing to keep in mind is letting us know what types of guitars you'll be keeping inside.
Standard guitars, like a Les Paul, Strat, or Tele, will fit just fine. Larger body guitars, like a Gibson ES-335, Gretsch Country Gentleman, or almost any acoustic guitar, will require special consideration and slightly larger dimensions to fit, especially in one of two Guitar Vault Cases. Offset body guitars like Jazzmasters and Jaguars will require a somewhat larger vault than a typical Strat or Tele.
During the design process, the professionals at Road Cases will ask you to provide measurements for the largest guitar(s) you'll be traveling with, so that they can design your vault around those as the maximum dimensions. Smaller, standard guitars will easily fit in those spaces as well as using our system of adjustable nylon straps around the necks and bodies of your guitars, so you can rest assured that they'll be safe and sound inside, no matter where or how you're traveling.
The team at Road Cases pride themselves on offering the best cases in the business. From design to construction, they are here to create the perfect guitar vault for every instrument you'll need to bring on tour. To get started on a custom case order, you can submit a quote request form or give their sales crew a call at 631-557-0000.